2023-03-13: Avian Science Notes March newsletter
Avian Science Notes - 

March 2023
2023   Avian Bowl State Qualifier
Photo Caption: The 2023 California Senior Avian Bowl Champions – Duck, Duck, Goose from Merced, Contra Costa, and Sonoma Counties
Left to Right: Dr. Bradley, Rylin Gamble, Chloe Hausmann, and Tuilerie Gayeton
In Senior Avian Bowl, teams from Sonoma and Amador in the north, met competitors from as far south as Ventura County.   The brave families from the latter county dealt with hail, sleet, and snow to reach Fresno, one mom spending 11 hours behind the wheel!  While the Ventura County Hot Wings racked up the most points in any one game - 50, Merced's Duck Duck Goose ran the table.  Qualifying to represent California at the Nationals are Rylin Gamble (Merced), Chloe Hausmann (Contra Costa), and Tuilerie Gayeton (Sonoma).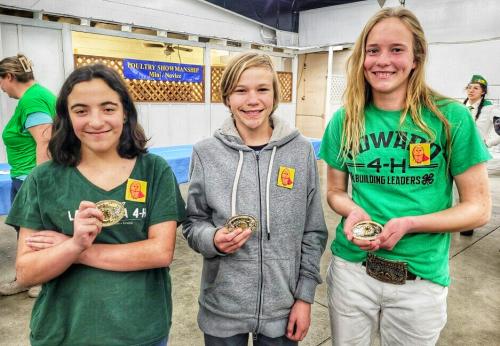 Photo Caption:  2023 Junior Avian Bowl Champions
Team Merced # 2 from Merced, Madera, and Contra Costa Counties
Left to Right Tessa Morici, Robert Gamble, and Kadence Erickson
For Junior Avian Bowl, 9  teams from up and down the state, squared off at the competition table, with Team Merced 2 winning it all.   Merced 2 actually had members from Merced, Madera, and Contra Costa counties.  Both champion teams were coached by Samantha Downey.
For the coaches who often ask, "Can members from different counties be on the same Avian Bowl Team?" - the 2023 results answer the question.   Yes, multi-county teams are legal and they can be champion teams.    Both the Junior and Senior Champion Teams were multi-county teams.
Once again, Dr. Bradley had her own Grade AA Avian Bowl Team: Dr. Linda Teagle handling the written tests and seeding and Mr. Aaron Teagle running the Bowl buzzer system.   Their continuing participation is a gift to all involved.
*****************************
Poultry Showmanship at the Greater California Society of Poultry Fanciers (GCSPF) Show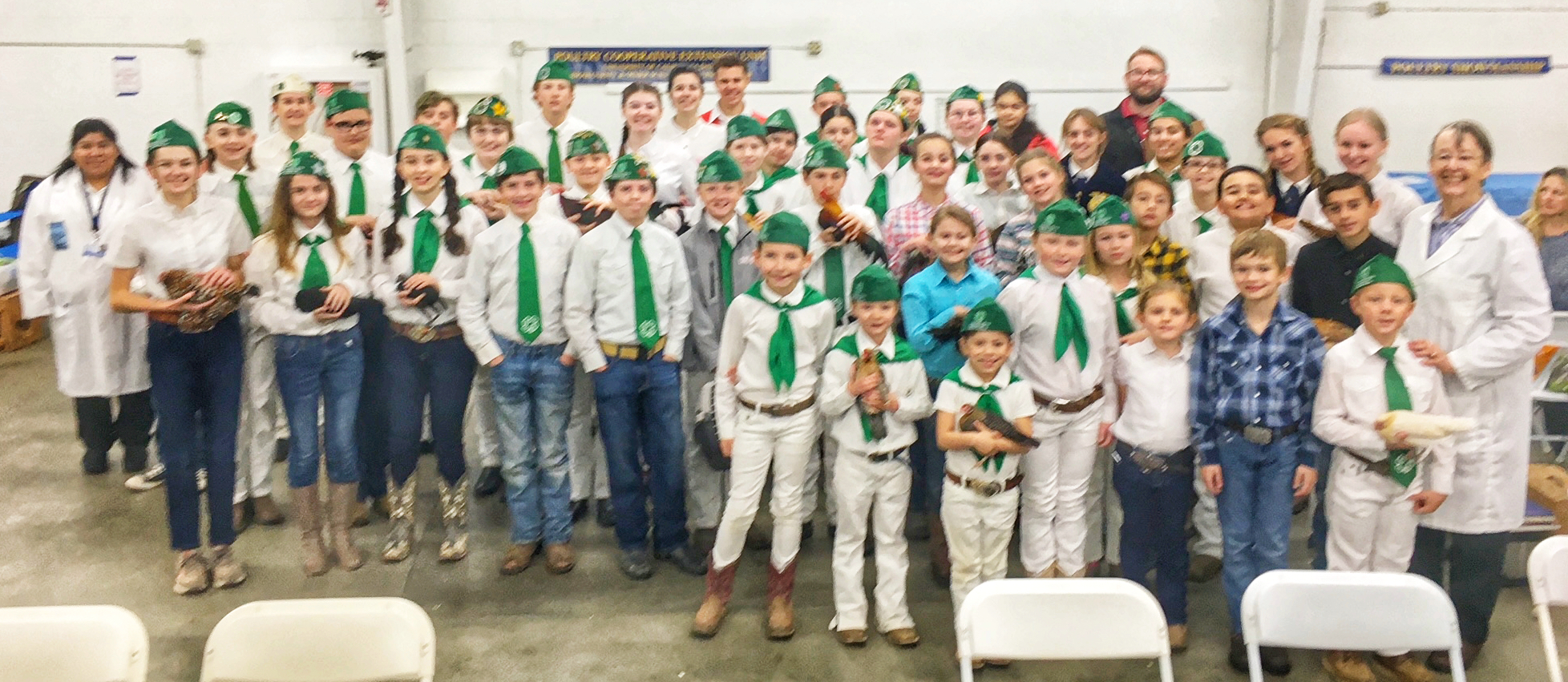 Photo Caption: Just some of the Showmen gathered in Fresno before the start of competition
Very early on the last Saturday in February, all hands and wings were on deck in the Gem & Mineral Building at the Big Fresno Fairgrounds.   67 Showmen (4-H, FFA, Grange, and independent) were registered.   Even with the storm raging, fewer than 10 showmen had to scratch.   Dr. Bradley, Aaron Teagle, and Myrna Cadena served as the Showmanship Judges.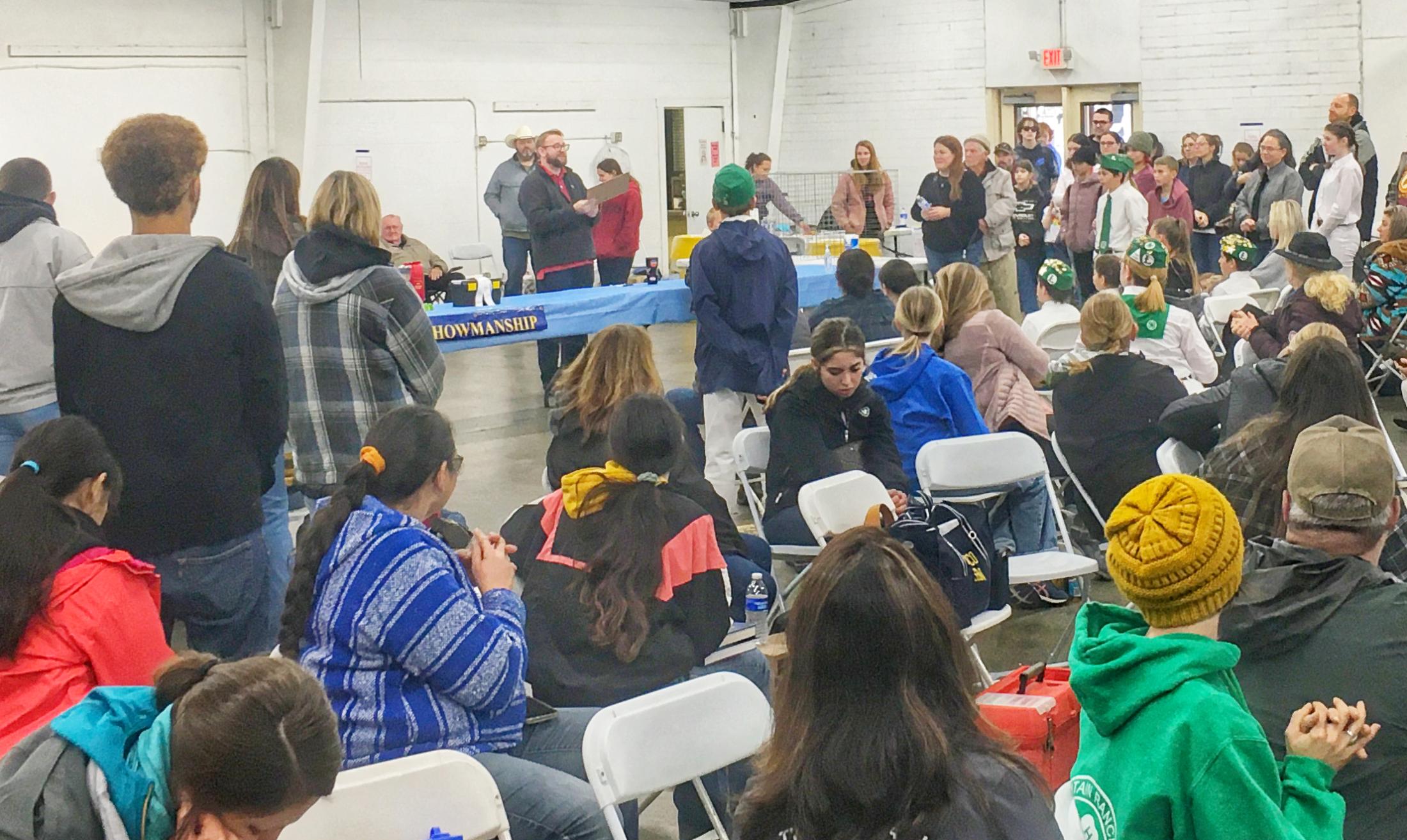 Photo Caption:  Mr. Teagle explaining his Showmanship placings.   Seen in the crowd, Mr. Bill Cervenka (in grey hat and jacket, to right of Showmanship table). 
One of the very interested non-family member spectators was Mr. Bill Cervenka from Half Moon Bay.   Due to his generous donation, youth placing 1st in poultry  showmanship classes at GCSPF, all received cash awards.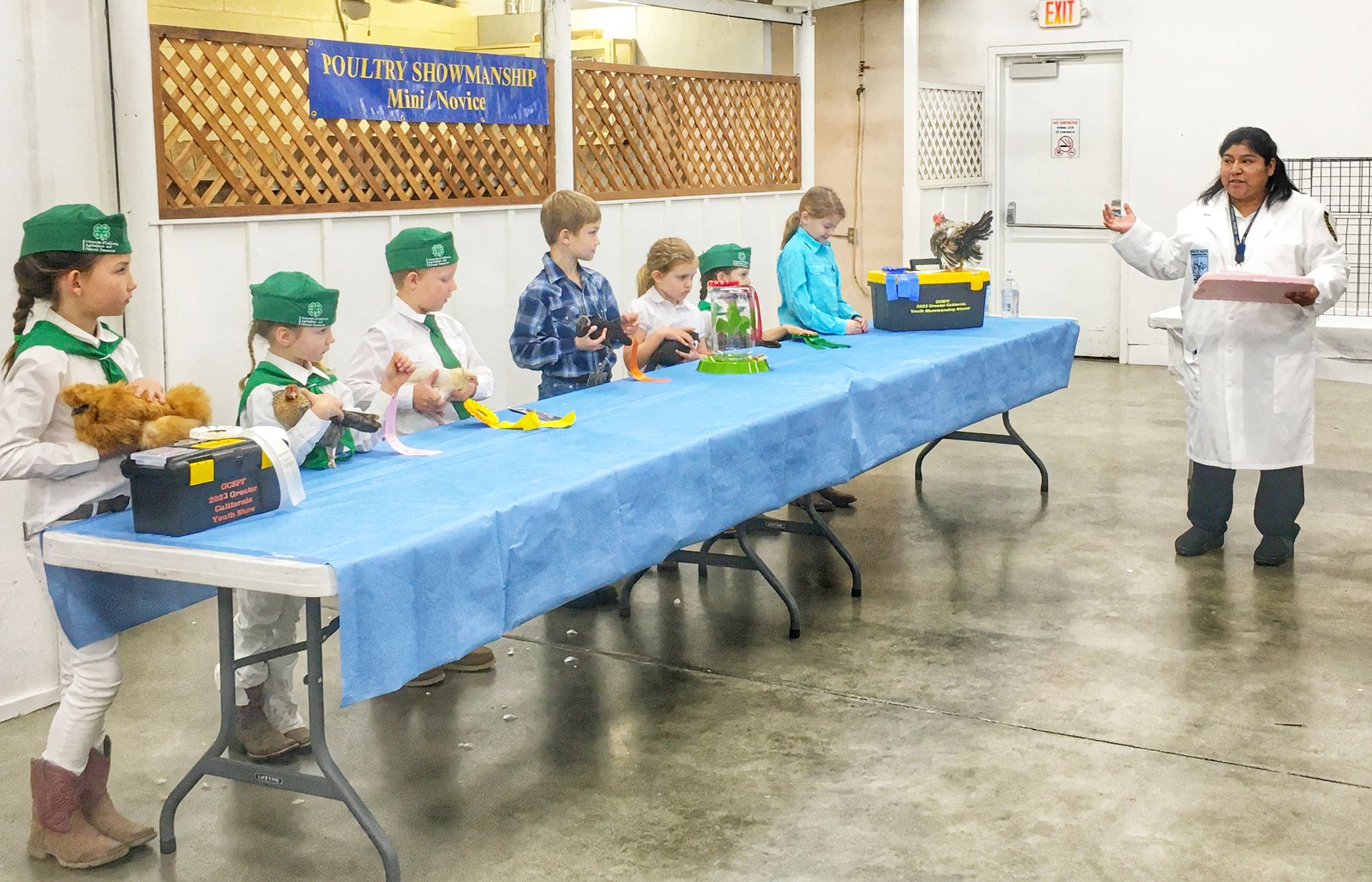 Photo Caption:  The Minis in Poultry Showmanship, giving their attention to Judge, Myrna Cadena.
Deep, deep thanks are expressed to Mrs. Janet Moore and family for all the assistance before and during the show.   They, as is typical of GCSPF members, are so committed to the junior program.  There is no show without leadership and paperwork.   GCSPF Show is a wonderful show because of the solid leadership and excellent record keeping of Alan and Sue Gallegos.   Appreciation to the Club and to Mrs. Moore for organizing the ribbons and practical awards.
*****************************
Continuing worries over Highly Pathogenic Avian Influenza (HPAI)
     Wherever I go, I'm asked, "So what's going to happen with HPAI?"  As of March 8, 2023, USDA APHIS reported that 58,602,281 birds in the United States have been affected by the disease.   Yes, that is over 58 MILLION!  There have been 789 reported outbreaks across 47 states and 396 counties.
      Unfortunately, reports continue of outbreaks in commercial poultry and backyard operations.  In the commercial industry, how sustainable is this?   And, as always, by "sustainable," I mean how long can the producers (farmers and ranchers) survive with bird losses of such magnitude?
       Immediately after the GCSPF Show, I was on the Pacific Egg and Poultry Association Convention program with our State Veterinarian, Dr. Annette Jones.    Currently, the United States and all other countries that engage in international poultry trade, do not use HPAI vaccines.    Dr. Jones explained that discussions are occurring globally and some countries are vaccinating for HPAI and giving up there international poultry markets.   Currently, most countries have poultry embargoes against countries that vaccinate.   If you do not understand the last sentence, please refer to the Changing World of Poultry and Egg Markets in the Avian Bowl Study Manual!
       It is important to recognize that vaccinating against HPAI will not solve all problems.   Vaccinated birds can still become infected with HPAI and would have to be killed.  Why vaccinate then?  By vaccinating against HPAI, we can increase resistance to the virus, reduce shedding and spread of the virus, and reduce transmission to other avian species.
*******************************
                 Calendar
July 19, 5 PM Avian Bowl, Orange County Fair.  Info: ocfinfo@ocfair.com; on-line registration only. 
Questions: Dr. Bradley 760 699-5078
Secondary Categories