2022-05-18: Avian Science Notes May newsletter
In this Issue:
OUR 2022 AVIAN BOWL CHAMPIONS

HIGHLY PATHOGENIC AVIAN INFLUENZA (HPAI)

CALENDAR
OUR 2022 AVIAN BOWL CHAMPIONS
Smiles, lively visiting, and cheers were all part of the gathering for the 2022 California Avian Bowl State Qualifier.   Teams came from all over the state to compete.   However, many competitors and families first caught up with old friends, not seen since the start of the pandemic.
      In addition, many took advantage of the Fresno venue to enter birds in the Greater California Society of Poultry Fanciers (GCSPF) Show.    Congratulations to the GCSPF officers and show staff for hosting another great show.  It was a fitting memorial to longtime 4-H poultry supporter and GCSPF officer, Mrs. Linda Grim.
      Junior Avian Bowl was full of correct answers (and a few "nice try, but WRONG") from team members.   The officials (Drs. Francine Bradley & Linda Teagle and Mr. Aaron Teagle) loved tracking the positive answers from the cleverly named teams (Brainy Bantams and Free Rangers, to name just two).  In Game 1 the Snuggly Ducklings (Marin) were defeated by the Free Rangers (Madera).   Remembering it was a double elimination tournament and not giving up, the Ducklings ran  the Losers' Bracket and faced High Eggspectations (Amador) in the championship game.  High Eggspectations were undefeated coming into the the final game.   As their name suggested, the Ducklings needed a little more time and growth and were defeated by High Eggspectations.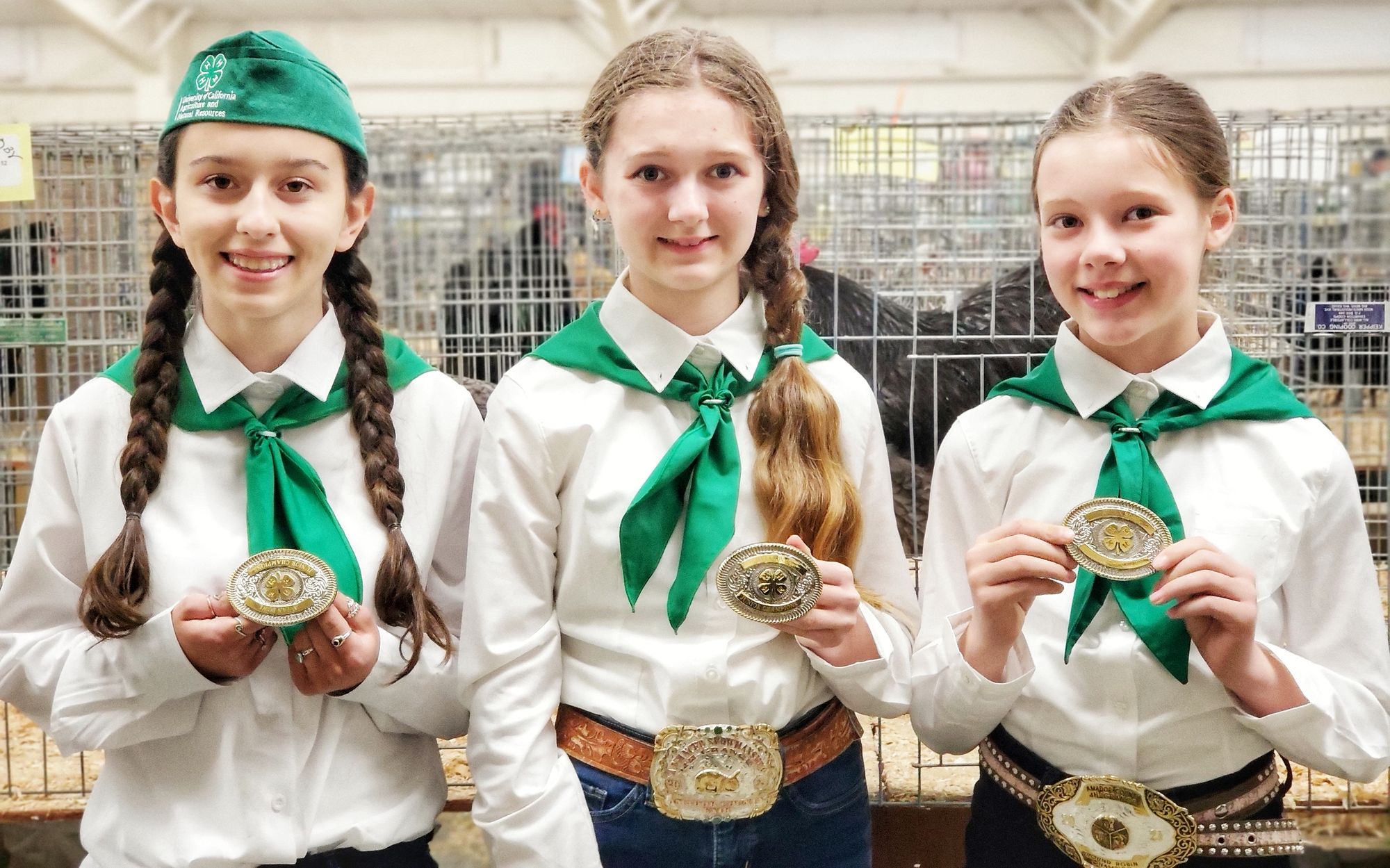 Photo:  L to Rt: Cecilia O'Geen, Lexi Himmel, and Lily Himmel
        Grade AA congratulations to the Junior Champions: Cecilia O'Geen, Lily Himmel, and Lexi Himmel.    A big "thank you" to Dr. Kelsi Williams for coaching and bringing a team from Amador County.   How about more teams from our gold country?!   Or will the Amador Champions be the only ones sporting Avian Bowl Champion belt buckles in that part of the state?
        A frequent question regarding forming Avian Bowl teams is, "Are teams with members from more than one county allowed?"  The answer is "Yes" and this year's Senior Avian  Bowl had just such a team.  Ventura and Santa Cruz cooperated to field a team - Phantastic Pheathers.  However, none of the Senior teams from Madera county south, were a match for the Chicken Spocks from Marin.
        Our Senior State Champions are are Annelise Sommer and Emily Wouts.   How great is was to have Coach, Mrs. Susan Copperman, back in the game.  Mrs. Copperman coached another State Champion team in 2004.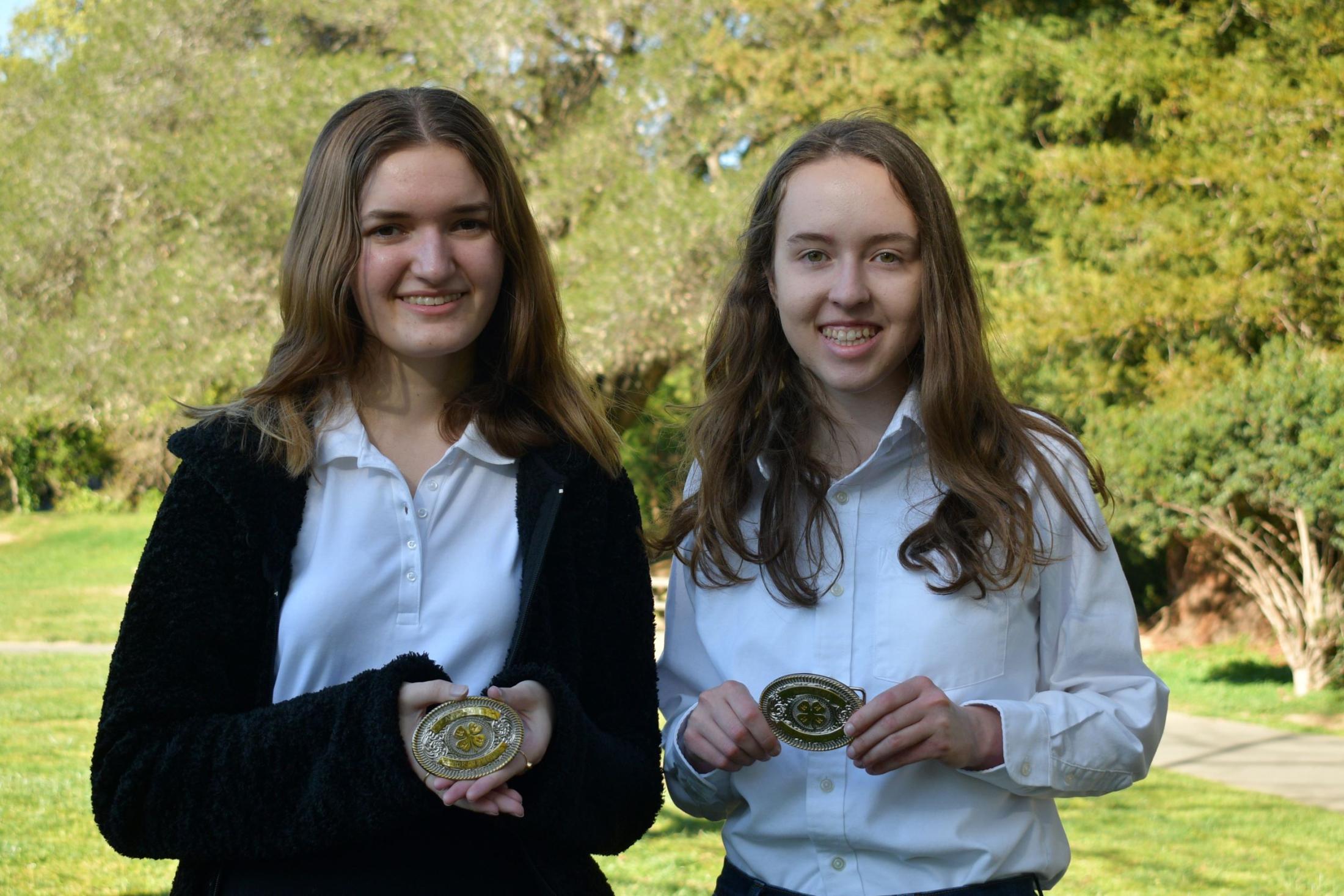 Photo:  No longer just the Chicken Spocks from Marin, they are now the California Senior Avian Bowl Champions!
HIGHLY PATHOGENIC AVIAN INFLUENZA (HPAI)
         There is never a time to forget about biosecurity.   Some people may have backed off on the practices they employed during the eND outbreak.    However, just because one dangerous virus has been eradicated, does not mean that there is not another pathogen waiting to descend on our birds.
         Unfortunately, HPAI is back, courtesy of migrating waterfowl.   This virus is deadly for poultry and has been moving closer and closer to California.   Early detections this season were in Eastern Canada and the eastern United States.   As I put the final lines on this newsletter, even more cases have been confirmed (note the map below is still accurate in terms of presence of the virus in neighboring states).  On May 11, there were confirmed reports of new detections in a backyard flock in British Columbia and 3 new detections in both backyard and wild birds in Washington state.
         What can you do?   The same good biosecurity practices as always.   Most important is that your birds are under a solid cover.   The virus can easily pass from a migrating waterfowl when it defecates and poultry peck at that material.     So keep your birds protected by confining them in pens with solid covers and screened sides that keep out wild birds.
         Prevention is needed.  There is no cure for HPAI.   Birds with the disease will be humanely killed and disposed of by state and federal authorities.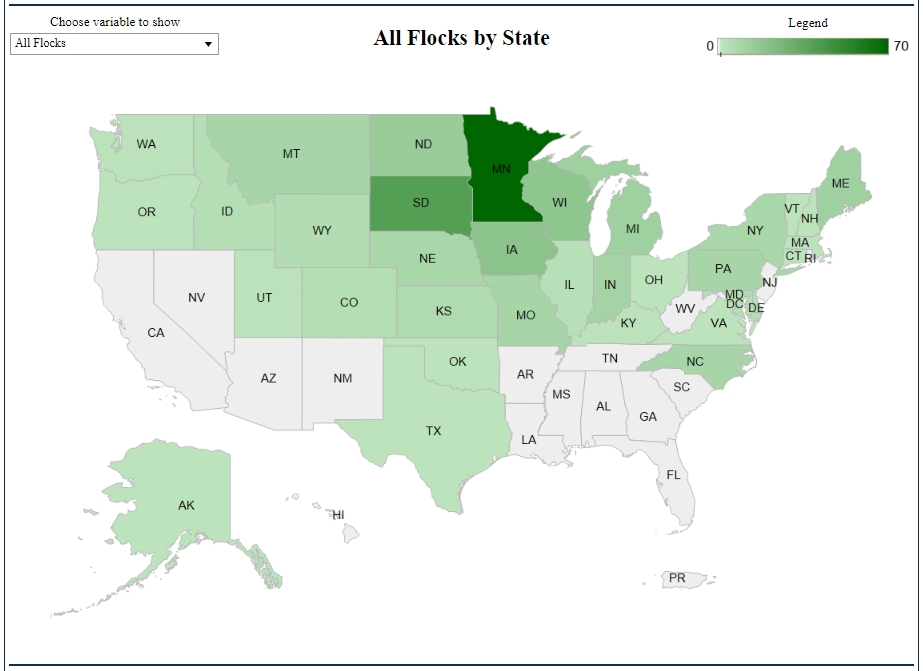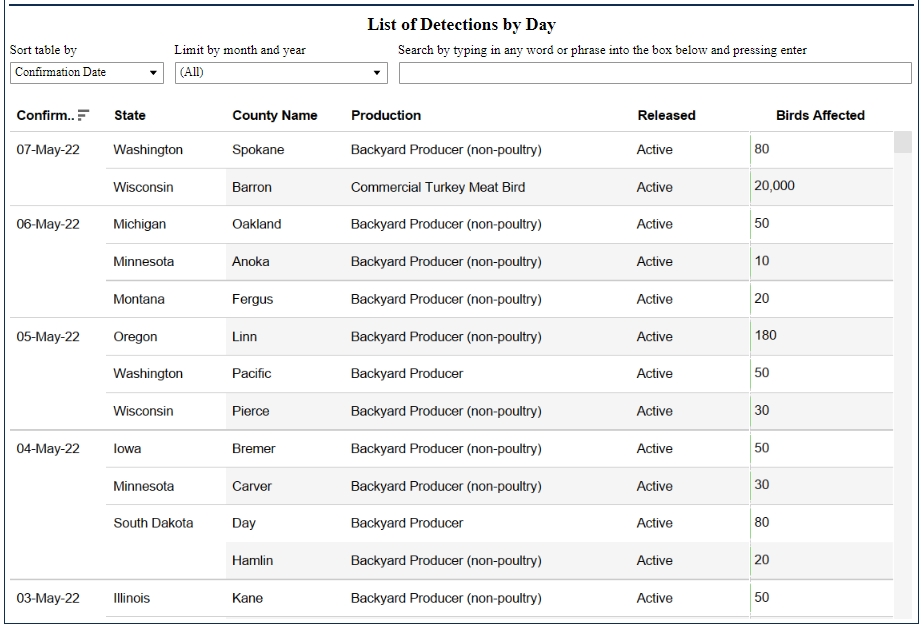 Ref:  USDA Animal and Plant Health Inspection Service - 2022 Confirmations of Highly Pathogenic Avian Influenza in Commercial and Backyard Flocks
https://www.aphis.usda.gov/aphis/ourfocus/animalhealth/animal-disease-information/avian/avian-influenza/hpai-2022/2022-hpai-commercial-backyard-flocks
CALENDAR
2022
July 20          Avian Bowl (5 PM), Orange County Fair, Costa Mesa.   Open to all teams,
                    all counties.   Info.: ocfinfo@ocfair.com; on-line registration only.
                                Questions: Dr. Bradley  (760) 699-5078 
Primary Category