2021-12-07: Avian Science Notes December newsletter
IN THIS ISSUE:
            Avian Bowl in 2022
            Avian Bowl Photos
__________________________________________________
Avian Bowl in 2022
*Avian Bowls taking place before the 2022 State Qualifier, will use the 2021 Study Sections.
The new 2022 study section will be the basis for all questions & answers at the Qualifier and throughout the remainder of 2022.
THE 2022 STUDY PACKET

:
All questions and answers will come from the following material in the 2016 version of the Avian Bowl Manual:
Poultry judging - Online National Poultry Judging Manual (Past production hens printable pdf, pages 1-2 only) https://national4hpoultry.ca.uky.edu/files/pjmanual-pastproductionhens.pdf

Understanding food prisoners (All) ... pages 17-20

Avian systems (Reproduction only) ... pages 35-38

Breeds, varieties, and strains (Mediterranean through AOSB only) ... pages 75-80

Raising game birds (Disease control through Laws only) ... pages 94-99

Eggcyclopedia (Partnership for food safety through Zeaxanthin only) ... pages 139-151B

Raising your home chicken flock (All) ... pages 151C-161

Biosecurity (All) ... pages 179-180

Avian influenza (All) - Pages 181-182
Note: The above study material came from the National 4-H Avian Bowl Manual revised in 2016.
Dillard Building
105 Klugh Avenue 
Clemson, SC 29634
(864) 656-0281 (phone); (864) 656-0687 (fax); Attn: Shannell Mathis 
They no longer accept checks
https://secure.touchnet.net/C20569_ustores/web/product_detail.jsp?PRODUCTID=1587&SINGLESTORE=true
______________________________________________________________________________
Avian Bowl Photos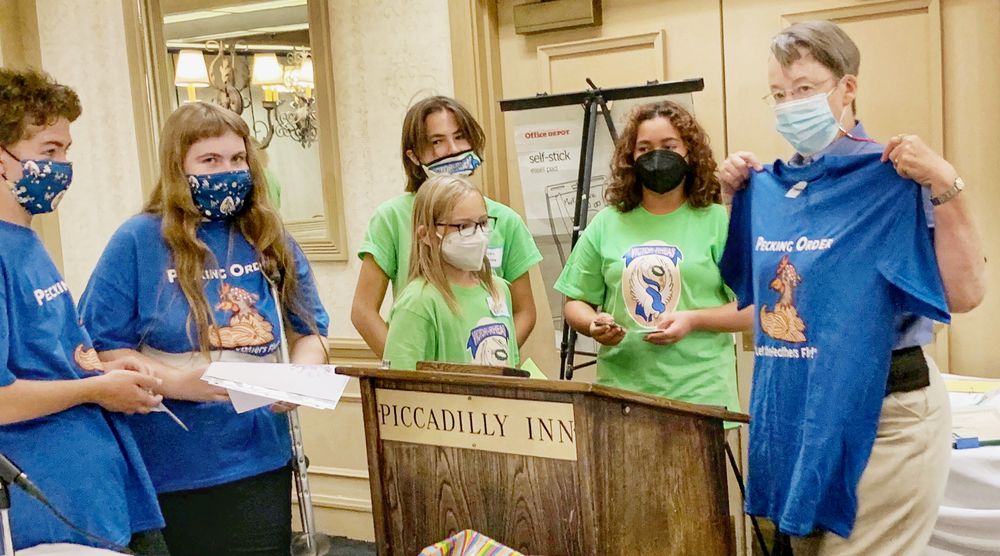 Ventura County captured both the Junior and Senior Avian Bowl Championships at the California State Qualifier.
Pictured L-R: Matthew Ziegler, Ashley Pyler, Zuzu Harding, Liliana Lozano, Dr. Bradley (with her Pecking Order tee), and in front Sammy Belik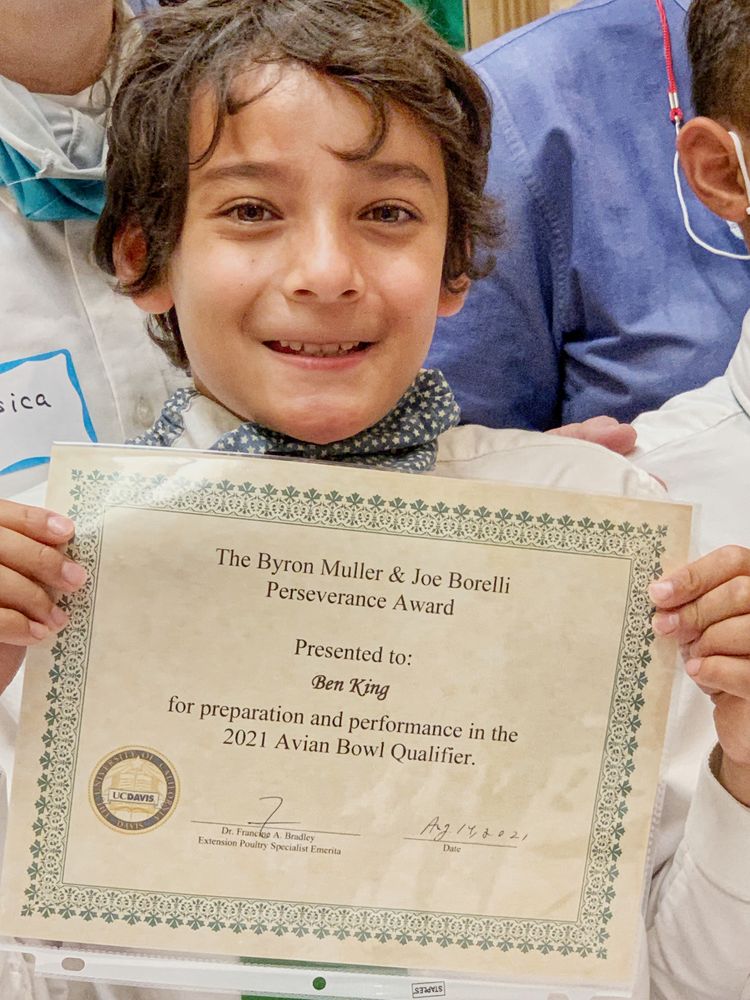 Ben King of the Madera Junior Team displaying his Byron Muller & Joe Borelli Perseverance Award, which also came with a cash stipend.   The award named after two late members of the Avian Sciences Dept. staff at UC Davis, was given to the 4-H members who kept their teams active and studying during the pandemic and made the trip to the Qualifier this August.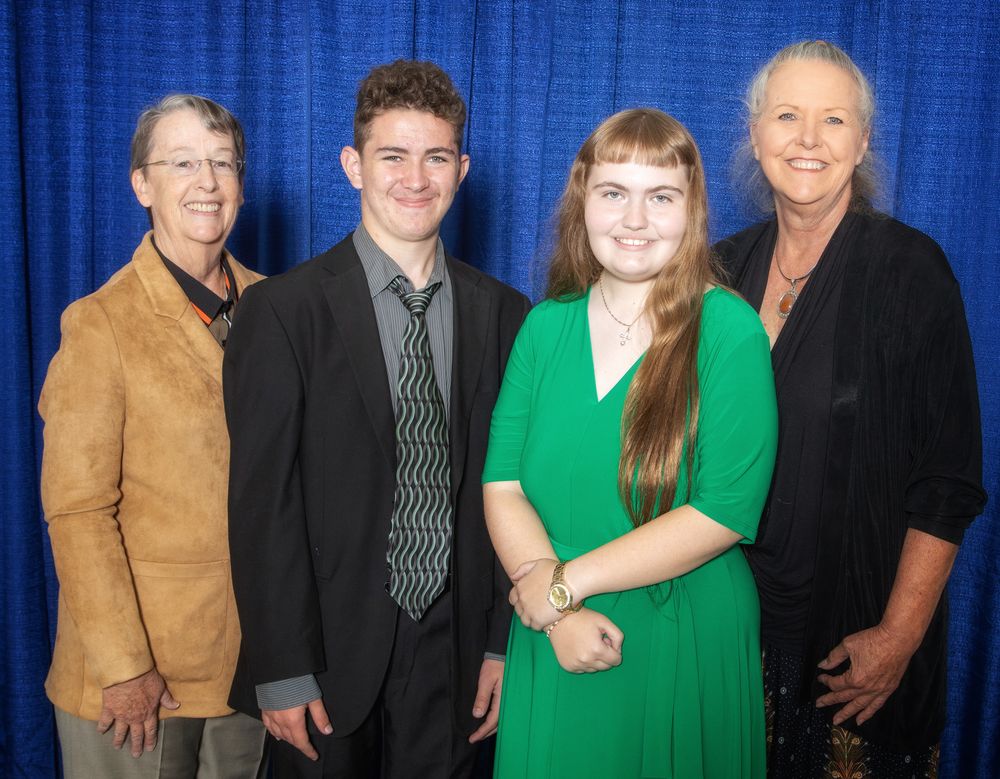 Posing for pre-Award Banquet photos at the 4-H National Poultry and Egg Conference in Louisville: Dr. Bradley, Matthew Ziegler, Ashley Pyler, and Coach, Mrs. Kitty Beckman.   Captain Ashley Pyler was on fire with her correct answers at the Nationals.   The California team only suffered one loss (to Alabama) before the game that decided the Championship.    Again, they faced Alabama.  It all came down to one question and Alabama prevailed.   For their 2nd place finish, each California team member received a gold pin, $75, and a handsome wall plaque.  Congratulations to Mrs. Beckmann for her continuing efforts in grooming great Avian Bowlers.
 
 

Dr. Francine A. Bradley, Editor

Extension Poultry Specialist Emerita

1775 East Palm Canyon Dr.

Suite 110 - #129

Palm Springs, California 92264
The University of California prohibits discrimination against or harassment of any person employed by or seeking employment with the University on the basis of race, color, national origin, religion, sex, physical or mental disability, medical condition (cancer-related or genetic characteristics), ancestry, marital status, age, sexual orientation, citizenship, or status as a covered veteran (special disabled veteran, Vietnam-era veteran or any other veteran who served on active duty during a war or in a campaign or expedition for which a campaign badge has been authorized).  University Policy is intended to be consistent with the provisions of applicable State and Federal laws.  Inquiries regarding the University's nondiscrimination policies may be directed to the Affirmative Action/Staff Personnel Services Director, University of California, Agriculture and Natural Resources, 300 Lakeside Drive, 6th Floor, Oakland, CA 94612-3550 (510) 987-0096.
Primary Category
Secondary Categories