2021-04-02: Avian Science Notes April newsletter
IN THIS ISSUE:
          Answers to March Issue QUIZ- based on 2021 Avian Bowl Study Sections
         Fair Update
          Two Alumni of 4-H Poultry remember a beloved Mother, Friend, and Leader
          The importance of following vaccination programs
          Reminder about only using commercially formulated poultry feeds
           Feeding Tip for Broilers
*****************************************
No Winners in March Contest
I was surprised and disappointed that no one came up with the correct answers to the March Quiz.   I do thank those who tried and made a Contest submission.  It is a shame that I could not award the lovely poultry book I had for the winner.
Answers to March Issue QUIZ - based on 2021 Avian Bowl Study Sections
A             +   B          +    C             +    D               -   E             - F             +  G        = ***
page __         page__        page ___      page ___        page __      page ___     page
A =   Day of incubation the tongue begins to form __4__
Page 191 where I found answer
B = Maximum number of chicks provided free to each 4-H Pullet Chain Participant __50__
Page 57 where I found answer
C = Number of breeds in the Asiatic Class __3__
Pages 72 to73 where I found the answer
D = Year Mrs. Cecile Steele is credited with starting the commercial broiler industry _1923___
Page 75 where I found the answer
E = Incubation period for Egyptian geese __35___
Page 30 where I found the answer
F = minimum listed adult weight for an emu __110___
Page 172 where I found the answer
G = Number of  letter "u"s in the  name of dish served on Jewish Sabbath, it is a baked custard, often containing noodles   __1___               Page 131 where I found the answer
4 + 50 + 3 + 1923 – 35 – 110 + 1 =  1836 ***
***********************************************
FAIR UPDATE
Here is a quick glance at the current status of the fairs scheduled for April and May.  Note that specific fair schedules and plans could change, so always check your local fair's website for current information. 
If your local fair isn't listed below, we just do not have current information yet.  You can find links to all fair websites here:
https://www.cdfa.ca.gov/FairsAndExpositions/Fair_Information/Fair_Dates_and_Information.asp
In addition, we do post regular updates on the Avian website here:  https://avian.ucdavis.edu/
Colorado River Fair – cancelled
Merced County Spring Fair – cancelled
Tehama District Fair – will have poultry
Dixon May Fair – no poultry show
Salinas Valley Fair – no poultry show
Chowchilla-Madera County Fair – cancelled
Contra Costa County Fair – cancelled
Calaveras County Fair – will have poultry
Glenn County Fair – will have poultry
Sacramento County Fair – will have poultry
***************************************************
Two Alumni of 4-H Poultry remember a beloved Mother, Friend, and Leader
Your Editor is grateful to Bob James and Katherine Plumer for sharing the following thoughts of Mrs. Jan James.    Mrs. James' dedication to 4-H poultry curriculum development and her commitment to high standards for youth, influenced many lives.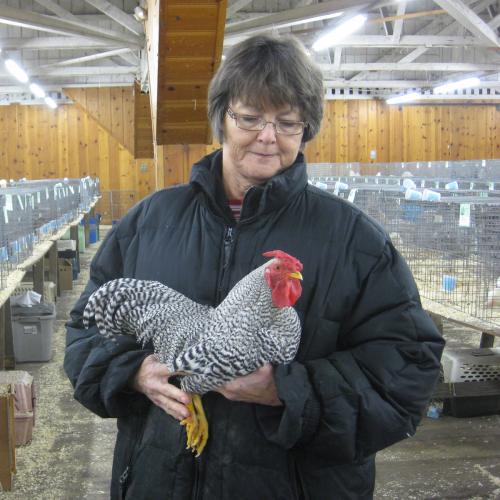 (Photo:  Janice Claire Blawat-James, courtesy of Katherine Plumer)
The poultry and 4-H community have lost a beloved friend.  On Monday March 8, 2021, Janice Claire Blawat-James passed away at the age of 73. She had been battling cancer for some time. Jan was born on March 20, 1947, in Sloughhouse, CA. She spent most of her life there, with part of her childhood living with her family in Camino, CA. She was a 4-H member in her youth, and always loved horses.  She attended UC Davis, and worked with computers her whole life, mostly as a typesetter.  She helped authors create books, teachers create tests, and small organizations like 4-H clubs and poultry clubs with their newsletters. When she retired, she was able to spend time raising and showing chickens, traveling, gardening.
Jan had a great many passions in life.  For many years her life was full of her beloved Tennessee Walking Horses, and countless trails rides, especially with her friends in the North American Trail Riding Conference.  She had an eye for conformation and movement, and even in recent years was a great mentor to her friends.
She loved art, and painted many beautiful watercolors over the years.  In the mid 1990s she got involved with chickens through her son Bob's 4-H project.  She was a 4-H poultry leader for many years, traveling the state to attend shows and competitions with the youth in her group, as well attending the National Avian Bowl and Poultry Judging competition in Kentucky.  Jan was one of those people who completely devoted herself to making these experiences unforgettable and wonderful for the young people she led.  Jan eventually got birds of her own and worked tirelessly to improve the Dominique Bantam breed.  She became a renowned and widely respected breeder of Dominque Bantams, winning several major awards in California and other western states.  She helped put this breed on the map.  She absolutely loved her chickens and traveled the country to take them to shows.  She met so many wonderful friends along the way.
Jan was generous and kind and always stood for what she believed in, but anyone who knew her would also tell you how stubborn she was!  She was outgoing and always smiling, making new friends at poultry shows by simply walking up and introducing herself to people.  Jan was an incredible friend.  
***************************************************
The importance of following vaccination programs
     Poultry owners are always reminded to carefully follow vaccine label instructions when they vaccinate their birds. Similarly, current public service announcements are reminding citizens to make sure they receive two COVID-19 vaccines, 28 days or 21 days apart depending on the product Moderna or Pfizer, respectively. This article discusses the importance of following vaccine label instructions. A good place to begin is with a review of the basics.
What is vaccination?
    Vaccination is the process of introducing a microorganism into the body, in a controlled manner. The goal is to trick the body into building protection against the microorganism. For example, we can use a weakened version of a virus to stimulate the production of antibodies— structures that help fight off microorganisms in this case a virus— without having to worry about the vaccine causing disease. This way the next time the body detects the same virus, it will remember it. The body will then respond with residual antibodies, creating more antibodies, and bring other defenses in a faster and more efficient way to control the illness.
Why are booster shots necessary?
    While one shot is enough to start building antibodies against a virus, it will not be enough to reach the optimal level of antibodies protective cells. Nor will it be sufficient to maintain these defenses and the needed high immune response memory. Therefore, giving your birds only ONE shot won't protect them for a prolonged period of time. You really need additional shots (also known as booster shots) to keep your birds protected. This is why if the vaccine manufacturer's instructions or your doctor/veterinarian says to administer 2 shots at different time intervals, it is important to follow that protocol. Similarly, this is why it is important to receive both COVID-19 shots this year. However, this does not mean you should vaccinate every day, every week or even every month. Again, it is important to carefully follow the vaccine label instructions or your doctor's/veterinarian's instructions. We don't want to overwhelm our body or the chicken's body. We also need to take into consideration that it typically takes a couple of weeks to develop a decent amount of protection.
    In the case of respiratory vaccines for chickens, the "doses" of live vaccines should be given individually. These are not shots/injections, since they need to be applied in the eye (ocularly) with a dropper. They cannot be sprayed or given via drinking water, since the optimal protection is only acquired when this vaccine is given ocularly.   
    As illustrated in the picture below, a bird that is not vaccinated (or not properly vaccinated), cannot only become sick, but also spread the virus through its secretions or droppings. A vaccinated bird on the other hand, will not show signs of illness and will shed less virus. Again, you really need a booster to benefit the most from vaccinating. Not all vaccines are alike though, so we cannot provide a general recommendation of when to give boosters. Instead, you should rely on the vaccine manufacturer's instructions to determine when to give them.
In short, it is critical that the manufacturer's instructions are always read and followed to ensure your birds are properly vaccinated. A properly vaccinated bird will have enough immune memory to recognize that virus for a prolonged time, neutralize it and destroy it quickly.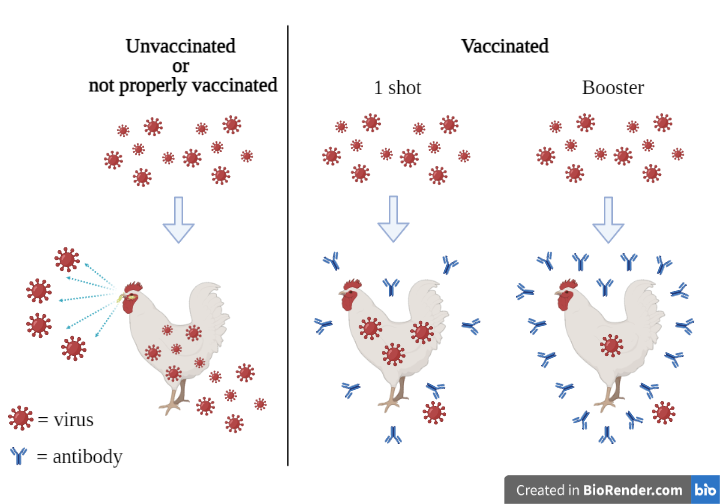 Biosecurity
    Remember that vaccines are just one tool, part of a biosecurity program, that can help us keep our birds (and ourselves) healthy. For example, even if we have been vaccinated for COVID-19, we still need to wear a mask, wash our hands regularly and physically distance. Even if our birds are vaccinated, we still need to use dedicated shoes and clothes, clean and disinfect the coop regularly and not allow visitors. For more information on the COVID-19 vaccine, check out the Centers for Disease Control website.                        
 (Prepared by Myrna Cadena, University of California Cooperative Extension Intern, Dr. Rodrigo Gallardo, Associate Professor at the UC Davis School of Veterinary Medicine, and Dr. Francine Bradley, Extension Poultry Specialist Emerita)
__________________________________________________________________________________
Reminder about only using commercially formulated poultry feeds
    In a  recent issue of the newsletter published by the California Animal Health and Food Safety Laboratory System ("CAHFS Connection," February 2021), pathologists reported on a case of Vit A deficiency in backyard chickens.   The owner started with 50 chickens.   After 2 weeks of the birds looking depressed and emaciated, plus showing swollen eyes, 10 of the 50 had died.   The pathologists observed lesions in these birds that were consistent with Vit A deficiency.  Tests were run on the birds' livers and NO Vit A could be found, confirming the diagnosis.
     Unfortunately, vitamin deficiency is common in some backyard flocks.   The owners are often new bird owners, who incorrectly think they can "mix their own" poultry feed.  The least expensive and safest way to insure that your birds receive all the nutrients they need,  is to buy commercially formulated poultry feed.   Of course, you must buy the proper feed for your flock's stage in life (starter, grower, layer, etc.) and then store the feed properly.
Feeding tip for Broilers
       For those of you raising meat birds this year, you should know that a meat chicken spends energy eating!   Yes, of all the broiler's energy needs, 15% is used just to open and close its beak.   What does this mean for the person raising broilers?   Well, the owner wants to optimize the amount of nutrients the bird gets with each peck.   The best way to achieve this is to use pelleted feed, once the growing bird can handle pellets.   By giving the broilers good pellets, instead of mash or crumbles, you will improve feed conversion and weight gain.  Remember to always change feed type gradually.
*********************************************
CALENDAR
2021
Summer - Humboldt Poultry Fanciers' Association (HPFA) Summer Show, check HPFA website:  https://humboldtpoultry.org for news on this event.
California Avian Bowl Qualifier – final date and location when state regulations allow
Questions: Dr. Bradley 760 699-5078