No live birds at Fresno Show,
but the Avian Bowl Qualifier went on
     Due to the wise decision of the members of the Greater California Society of Poultry Fanciers (GCSPF), their show had no live poultry.   However, the California Avian Bowl State Qualifier was held in Fresno.   Entries received included 4-H members from the following counties: Contra Costa, Fresno, Imperial, Santa Clara, San Luis Obispo, and Ventura.   Several of the counties fielded both Junior and Senior teams.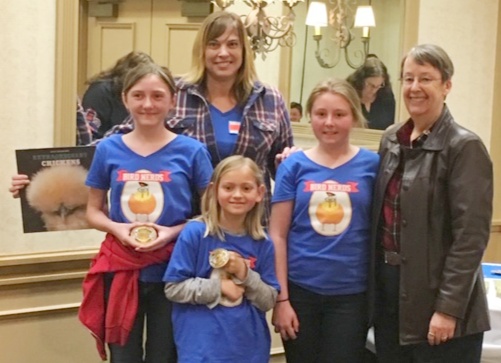 On competition Saturday, all in attendance were welcomed by GCSPF President, Mr. Alan Gallegos.   He explained the factors going into the Club's decision to cancel the live bird portion of the Show.   Mr. Gallegos went on to thank all who came for Avian Bowl and encouraged them to attend what will hopefully be a complete 2020 GCSPF Show.
    Dr. Bradley was joined by veteran Avian Bowl officials, Dr. Linda Teagle and Mr. Aaron Teagle.   Following the written test for the senior teams, live competition began with the Junior Avian Bowl.  Ventura County's Bird Nerds got off to a fast start, defeating their game 1 appointments by a 25 point margin.  The Egg-centrics from Contra Costa county also had one win with a 30 point margin.   When the Winners' and Losers' Brackets  brought together the Bird Nerds and the Egg-centrics, the Bird Nerds were in hyper-nerd mode and won the game handily.
      The Bird Nerds are made up of Sammy Belik, Scarlet James, and Olivia Willoughby (pictured above).  The team has been studying, and studying very effectively, under Coach, Mrs. Kitty Beckmann.   However, on the date of the Qualifier, Mrs. Beckmann was out of state and the team was ably coached by Mrs. Monika James.
    In Senior Avian Bowl, the Rulers of the Roost (Contra Costa Co.) emerged from the written test, seeded number one.   Two teams that challenged each other repeatedly and traded wins were The Nuggets (Santa Clara and Contra Costa counties) and Friends of a Feather (San Luis Obispo county).  Eventually, the Friends of a Feather emerged from the Losers' Bracket to face the undefeated Rulers of the Roost.  It all came down to a sudden death game, won by Rulers with a 10 point margin.  The Rulers of the Roost are a 2-person team: Brett Morici and Jonathan Evans.   They are coached by Mrs. Evonne Morici.
    All members of both the Junior and Senior Champion Avian Bowl Teams received handsome, engraved belt buckles.  In addition, the Senior Championship Team received the Walt Leonard Memorial Award, with a monetary prize.   This latter award recognizes the many contributions of the late, ABA and APA Judge, Walt Leonard, to poultry youth.   The monetary prize formed the foundation of the team's treasury for the trip to the 4-H Poultry and Egg National Conference, this November in Louisville.
Virulent Newcastle Disease (vND) Outbreak continues
Unfortunately, new cases of vND continue to be confirmed in Southern California.   What can you do?
              1. Practice every biosecurity technique you have learned
              2. If you have unexplained mortality in your flock or you hear about birds dying in your neighborhood, call the California Department of Food and Agriculture
              SICK BIRD HOTLINE 866 922-2473
               Is it true that there will be no live poultry at my county fair?
     County fairs are currently reviewing guidelines provided by the State Veterinarian to help them decide whether or not to have live poultry.   Dr. Bradley has already heard from county fair staff members up and down the state who have made the decision - NO live poultry at our fair this year.   This does not mean that there cannot be competitions for 4-H youth in the poultry barn.   Of course, adding an Avian Bowl competition is a natural.   Other ideas include educational poster competitions emphasizing disease prevention, biosecurity, and/or specifically virulent Newcastle Disease (vND).  Some of this season's early fairs have already used stuffed chickens for their Showmanship competitions.   The National 4-H Poultry Showmanship Manual should still be used..   Modifications, of course, will be necessary.   Instead of all showmen examining their birds at once, have each showman do the exam separately while explaining to the judge what s/he is evaluating.    Obviously, the "walking" portion of Showmanship has to be handled differently.   If any 4-Her manages to get a stuffed animal to "walk on its own," call Dr. Bradley immediately!!!
    Encouraging fairs and having a larger roster of fairs holding Avian Bowls, will be advantageous to all.   Remember: if you wish your Fair staff to make some changes, offer your help.
           Northern invasion - teams will be heading south to Costa Mesa
    The majority of the teams at the Avian Bowl State Qualifier, told Dr. Bradley that they plan to compete at the Orange County Fair's Avian Bowl.   So you southern California Avian Bowlers, start studying.   Will you allow teams from north of the Tehachapis to take all the prizes this summer in Costa Mesa?   This could be a great Avian Bowl showdown.
2019 CALENDAR
July 13 - Avian Bowl, Orange County Fair. Info: ocfinfo@ocfair.com; on-line registration only.
Questions: Dr. Bradley 760 699-5078